Swan Year 4 2022 - 2023
Welcome to Swan Class
The Team
Class Teacher: Miss Cullen
Teaching Assistant: Mr Fowlds
Reminders
Please ensure your child brings a water bottle to school every day.
Please label ALL clothing and belongings.
Autumn Term
Parent/Carer Curriculum Information
Throughout the year we will attach overviews with more information about what your child will be learning in each curriculum area during each term. We cover a variety of exciting topics throughout the year and may ask your child to bring in items from home to support these.
Homework
This half term homework will be reading, times tables, spellings and either a writing or maths task.
Educational Visits:
We enrich our curriculum by arranging the following:
Topic based visits.
Visits to our parish church Holy Apostles and Martyrs.
Visits to our local theatre the Floral Pavilion.
Sports competitions at local schools.
Year 4 – The Bible
"The Scriptures are the living Word of God, written under the guidance of the Holy Spirit received and faithfully handed on within the living Tradition and teaching of the Church."
Religious Education Curriculum Directory
The children will learn that the Bible is a story of God's love and concern for us. They will learn that the Bible is a living book through which God speaks to us and tells us about himself. They will learn that the Bible is one story told through many different books and they will learn about Moses, David and Jonah as well as learning how to find a Bible reference.
The children will have the chance to:
explore how the Bible helps us to pray and experience how God speaks to us in the Bible
participate in a liturgy and experience a guided meditation on a text from the Bible

At home

You could help your children by:

reading some of the stories the children have covered in class
­­­­­­­­­­­­­­­­­­­­­­­­­­­­­­­­­
English
Our 'Class Reader' for Autumn term is 'The Boy at the Back of the Class'.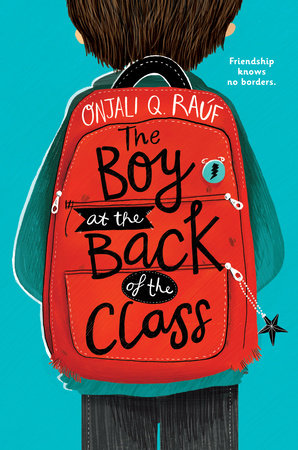 Physical Education (PE)
Our P.E day is on a Wednesday. Please ensure that your child comes in to school on a Wednesday wearing their school PE Kit. The PE kit includes black or navy shorts, a white T-shirt and a pair of trainers. As PE lessons will largely be held outside, your child may need something warmer (eg black or navy jogging bottoms and their school sweatshirt or cardigan).For health and safety reasons, children cannot wear jewellery for PE, so all children need to either be able to remove their earrings or they should be removed in the morning before school.
Reading
The children are expected to read independently at home on a regular basis (15 minutes per night). They should keep a record in their diary of what they have read. Please listen to them read out loud and record this in their diary. Discuss any vocabulary that they are not sure of. It is importnat that your child has their reading book in shcool with them daily.
Spellings
Children need to be able to read and spell all of the Year 3/4 by the end of Year 4. They also need to learn any spelling patterns and rules that are taught in class and then sent home. Click the file below to see the year 3/4 spelling list and practice some of the words at home.
Times Tables
Y4 - By the end of Y4 children are expected to know all of their tables up to 12 x 12 and associated division facts. Please ensure that the children keep their recall skills sharp.
General Home Learning Links
Religious Education (RE)
"Prayers and resources for children's liturgy catechists.In the Year of the Word, use these Gospel reflections, prayers, songs and activities to help children listen to the God who speaks" To access the Children's liturgy page click here.
Physical Education (PE)
Please click on the logo to access each website.
"Movement and mindfulness videos created by child development experts"
"Kids need to be active for 60 minutes a day. From our fun 10 Minute Shake Up games to information about active hobbies and sports, here's everything you need to get your family moving."
Yoga, mindfulness and relaxation website for children.
Maths
White Rose have been busy preparing free packages for parent's to use, including video tutorials. These can be accessed by clicking the link above.
Explorify has a range of scientific investigations suitable for all ages. Click on the logo to join in.
Files to Download
Swan Year 4: Gallery items
There are no Gallery items to display
Swan Year 4: Calendar items
There are no Calendar items to display